Welcome
Warm Greetings to all…
In this season we experience a global collective intention of Peace.
Everyone is feeling the intention.
No matter what you are doing or where you are at there are countless ways during the day in this season of sharing, of more caring, and thoughtful intending to extend Peace.
 Peace is a glorious feeling. Peace brings Joy.
Peace is a gateway to the real you.
With Peace there is the absence of fear. If you know your True Reality, there is nothing to fear. So stand in this Peace and let your true self Be.
Welcome
Warm Greetings to all in the Northern and Southern Hemispheres as the Equinox is upon us once again.
This time in the northern hemisphere it is a time to plant and in the southern hemisphere it is a time to harvest. Such beautiful balance is all around us in so many ways and so many opportunities.
Have you noticed in the last two years the abundance of practices that are incorporating, developing and pointing toward the word Love. This is occurring from Divine guidance. This is the moment in this time period for the great potential of expanding Love in this dimension. No greater act can you "plant" or "harvest" then Love. It is the soul purpose you elected to be here at this time.
Every thought and movement you make let the foundation be Love. Your only concern in this big beautiful earth, in this glorious light from our sun and moon, and blessings showering us from the great central sun is Love…for that is what you are. Plant or harvest only Love.
Welcome
Warm Greetings to all in the Northern and Southern Hemispheres as the Solstice is upon us once again.
Fear at this time is very high in our emotional and mental fields for most of the peoples on this planet….
As the vast and numerous cogwheels of time continue to work all around us, as they have since before time, humans continue to take full responsibility for all acts happening on earth.
Earth, it seems, is the only world to humans. There is, of course, the wonderment of the night skies, and the many thoughts on topics such as life after death, and divine miracles; however, there is not the complete or full understanding of our interdependence within this vast universe, so is it of any wonder why we have extraordinary ancient monuments connecting us to the celestial world? Read more…
Welcome
Warm Greetings to all in the Northern and Southern Hemispheres as the Solstice is upon us once again.
One of the most beautiful options we have as humans is free will or free choice. How many times have you celebrated the choices you made rather than dwell on the ones that do not bring harmony? There is no right or wrong, there is only experience, and experience will teach you. As spiritual seekers how often do you judge yourself or others for their choices of experiences? Judgment is a by-product of fear. What do you fear? If you know your true reality there is nothing to fear. When we find judgment in activation, a window into ourselves is opened. To curb this impulse turn the attention to Love, to see and perceive through unconditional Love. Our reactions should be from our hearts in that place of unconditional love. In this space our judgments of self and others will melt away. You will witness the glow and warmth in the heart-center as your thoughts are aligned with your heart and with love. This is a choice, to move in this manner. And this choice has great benefits. Energy follows thought. And so choosing from and aligning with the heart in every aspect of our terrestrial experiences strengthens our soul purpose and assists in expanding the immortal self. Read more…
Welcome
Welcome to those who are looking for information and for those who have been practicing Ama-Deus. No greater time is now to begin anew with the spring upon us in the Northern Hemisphere and recount what has been harvested in the Southern Hemisphere.
Spring is in the air and has sprung forth from the beautiful equinox energies. All that you planted in the winter will begin to grow. This is a great time to review what you planted and nurture. For others in the Southern Hemisphere you will be harvesting from the fall equinox and the beautiful energies that are present to assist. At what point you are at it is never too late to enact a life goal.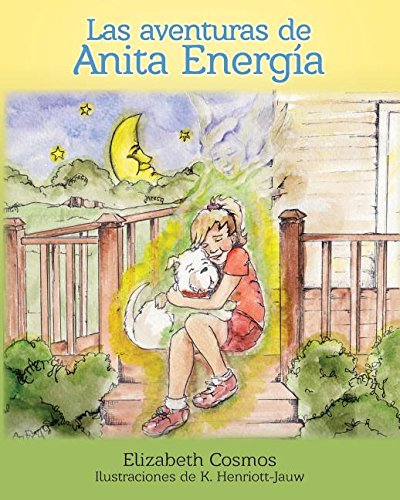 Las aventuras de Anita Energia
Anita vive con su familia y amigos en un pueblito de Estados Unidos. Acompaña a Anita en sus aventuras mientras descubre cómo nos ayuda el mundo invisible de la energía en las lecciones de vida.
Las aventuras de Anita Energia
"Las aventuras de Anita Energía ha sido escrito para guiar a la futura generación hacia un mundo Einsteniano de posibilidades infinitas. Este trabajo pionero desmitifica de forma clara y creativa el concepto de la energía al invitar a niños y adultos a un viaje literario increíble ¡Qué brillante manera de cambiar el mundo! Recomiendo este libro a todos."

—Dr. Mark Mincolla, autor del best seller Whole Health.

"Todos tenemos la capacidad de sanar. La energía de la creación está a disposición de todos nosotros. Todos podemos beneficiarnos si nos preparamos y nos ayudamos a alcanzar ese objetivo. Así pues, lee y aprende, y luego practica."

—Bernie Siegel, Doctor en Medicina, Autor de 365 Prescriptions for the Soul y de A Book of Miracles.

"Las aventuras de Anita Energía, Libro 1 es un libro maravillosamente ilustrado con un hermoso mensaje para los jóvenes. Es una invitación para que los niños (¡y los padres!) vuelvan a conectar con la luz divina que todos llevamos dentro. Nos recuerda que la vida es algo más que el mundo físico en 3D de nuestros cinco sentidos."

—Dave Markowitz, Intuitivo Médico, especializado en personas altamente sensitivas y escritor.

---
Pinchar aquí para ver el trailer del libro "Las aventuras de Anita Energía"
---
The Adventures of Energy Annie
The Adventures of Energy Annie follows a young girl who lives with her family in a small town in the Midwest and learns how the invisible world of energy assists in life lessons. In this first book Annie along with her faithful companion Mitzie, is introduced to the use of energy for healing. This beautifully illustrated book, from author Elizabeth Cosmos and with original artwork by K. Henriott – Jauw, is available on Amazon or your local bookstore. We are excited to announce this new release of Book I, is also in Spanish.
The Adventures of Energy Annie
"This pioneering work clearly and creatively demystifies the concept of energy, by inviting both child and adult readers on an amazing literary journey! What a brilliant way to change the world! I'd recommend this book to everyone!"

—Dr. Mark Mincolla Best selling author of Whole Health
"We all have the potential to heal. The energy of creation is there for us all. We can all benefit from coaching and helping us to achieve that goal. So read and learn and show up for practice."

—Bernie Siegel, MD, Author of 365 Prescriptions for the Soul and A Book of Miracles
"The Adventures of Energy Annie Book 1 is a wonderfully illustrated book with a beautiful message for youngsters. It is an invitation for children (and parents!) to reconnect to the divine light within ourselves and within others, and is a great reminder to all of us that there is more to life than the physical, 3D world of our five senses."

—Dave Markowitz, Medical Intuitive, specializing in highly sensitive persons and author
Click here to view "The Adventures of Energy Annie" book trailer
---
WELCOME
You are receiving this newsletter because at some point you have taken Ama-Deus method of healing, or you are interested in this method. You might have recently taken the class, or it may have been some time ago. Nevertheless, it is almost certain that you have acquired several other spiritual practices besides Ama-Deus!
This newsletter might be considered a "question letter" rather than a newsy letter, and the question is this: how many spiritual routines are you sporting at this time?
Yes I used the word sport. I like to think of myself not as a spiritual warrior, but rather a spiritual athlete. An athlete watches what they eat, exercises daily for strength and muscle memory, and incorporates mindful images into their practice and routines. Read more…
Welcome
Welcome to those who are looking for information for the first time, and those who have already been practicing Ama-Deus. There is no greater time than now to begin anew, with the Spring upon us in the Northern Hemisphere, and the reflections of what has been harvested in the Southern Hemisphere.
I would like to share with you some words of wisdom from Dr. Edward Bach.
"The real peace of the Soul and mind is with us when we are making spiritual advance, and it cannot be obtained by the accumulation of wealth alone, no matter how great. But the times are changing, and the indications are many that this civilization has begun to pass from the age of pure materialism to a desire for the realities and truths of the universe. The general and rapidly increasing interest exhibited to-day for the knowledge of superphysical truths, the growing number of those who are desiring information on existence before and after this life, the founding of methods to conquer disease by faith and spiritual means, the quest after the ancient teachings and wisdom of the East – all these are signs that people of the present time have glimpsed the realty of the things."
These words ring Truth for me for as I travel to all parts of the world I meet and see so many people not just seeking but doing great spiritual work. And so it is easy to know that as much turmoil there seems to be in the world there is a great expansion of compassion. And so do not give up in your work as a peaceful warrior because it is just this that will change the world. It is simpler than you can imagine, simply Love yourself and Love your neighbor.
There is no greater Force than Love.
Welcome
There are only a few days left before spring, however from my stance here in the Midwest of the USA, we are still very much experiencing winter! This is a short newsletter with a short thought below and announcement of the spring schedule of classes in Europe and Canada.
Thoughts
Here we are, so many months from the grand entrance of 2012.
Now is the time for all to stand knowing who they are. Even though the news media dominates in giving us all the sorrow and sadness in the world, even though the weather seems erratic, even though your own path can sometime seem weary…there is a growing of Light and Love so large that many of us are missing this mark.
Listen. Quietly listen to the expanding goodness in humanity. The cacophony that our media collects is the outcome of the growing of Love and Light. The sun is shining everywhere.
So many times you have heard how wonderful it is to be alive during this great transition. You have arrived, and you have made a mark. Ask yourself… is it the best mark? Could I do better each day, could I spread kindness a little bit more? The flame has started, contribute to this and keep it going, see it growing in your own heart.
It could very well be that you took many, many lifetimes to prepare for this incarnation; your growth in past incarnations has supplied you with the tools and awareness. Trust in this. Do not judge what your tools are compared to someone else's. Be kind and gentle to yourself… you simply need to be who you are – and to allow others to be who they are, and to rejoice in being alive. …as it is said I AM and Y-O-U ARE a child of the Universe. Read more…